In partnership with the Embassy of the Czech Republic and the Mutual Inspirations Festival 2013 – Vaclav Havel

As part of the International Artists Series

Ambassador Theater presents

Spitfire Company (Cz) and Sivan Eldar

in

Antiwords

Based on Václav Havel's Audience and its legendary film adaptation
Photos courtesy of Michal Hančovský
Physical theater performance and music installation inspired by Václav Havel's Audience and its legendary film adaptation, in which the role of the brewer was played by Landovský with his ability to drink nine pints of beer while in character. It explores a writer in the process of creation. The music element both recorded and live performed creates the main mean of expression together with the performers´ bodies and absurd humor.

Concept: Petr Boháč, Miřenka Čechová, Sivan Eldar
Direction: Petr Boháč, Miřenka Čechová
Music: Sivan Eldar
Set and Costume design: Petra Vlachynská
Producer: Spitfire Company
Light design: Martin Špetlík, Robert Janč
Starring: Jindřiška Křivánková, Miřenka Čechová
Saturday, September 21, 2013 at 8:00 pm



Sunday, September 22, 2013 at 2:00 pm



Mead Theatre Lab at FLASHPOINT
916 G Street, NW, Washington DC
CAST and Crew: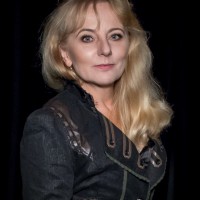 Hanna Bondarewska
Founder, CEO, and Artistic Director
Hanna Bondarewska is the Artistic Director and Founder of the Ambassador Theater and was recently seen in They Don't Pay? We Won't Pay! by Dario Fo as Antonia, Smartphones as Maria, Protest as Stankova, Death of Tintagiles as Ygraine and in Summer at Nohant as George Sand. "For Hanna Bondarewska, the path to world peace not only exists, she is walking it — one artistic endeavor at a time." – The Washington Diplomat.
Hanna Bondarewska is a native of Warsaw, Poland and was trained in the Polish and American schools of drama. She founded the Ambassador Theater because she believes in the power of theater to change the world for the better through collaboration and artistry. By bringing together theater and diplomacy she hopes to give us all a new perspective as global citizens, which will lead to deeper cultural understanding.
In June 2008, Hanna organized a life-changing trip to Poland for students from D.C. Public Schools as part of an educational program about Poland. The program was done in collaboration with Mrs. Hanna Reiter, wife of the former Ambassador of Poland to USA, the Embassy of Poland, Embassy Adoption Program, D.C. Public Schools and WPAS. She worked with over 60 students, teaching them about Poland, its history, culture, and traditions through theater designed to help them better retain learnt material, improve their reading comprehension, posture, and speaking skills, increase their imagination, and energize their drive for life.
The program developed into a performance, "Poland the Beautiful, an Imaginary ." Students performed the piece at their schools and at the Embassy of Poland, and then took it on the road for the First Lady of Poland, Mrs. Maria Kaczynska, at the Presidential Palace in Warsaw and in many other places around Poland last June.
Hanna's acting credits are extensive and include the role of George Sand in "Summer at Nohant", Young Helena Modjeska in ""Farewell to Arden" at ATICC, and in "Helena—the Emigrant Queen"; "Sunflowers" at the Polish Theater Institute in New York; Square Minus One; A Genie Named Khatab; Snow Queen; Anouilh's Antigone; Gogol's The Marriage; and Goldoni's Mirandolina and many others.
Ms. Bondarewska has recently directed The Trap, Happily Ever After, The Visitor, The Third Breast, The Madman and the Nun, Death of Tintagiles, Miracle of Saint Anthony, Summer at Nohant, Farewell to Arden, Forefathers, and Out at Sea.
Her one-woman show, Lotte Lenya, won recognition at the Kennedy Center Performing Arts Festival. Hanna performed at the Washington Shakespeare Theatre, Spectrum Theatre, Classika-Synetic Theatre, The New York Polish Theater, Hippodrome State Theatre, and Acrosstown Theater in Florida, where she also directed The Tao of Pooh, based on the book by B. Hoffman, and S. Mrożek's Tango. Her Polish theater credits are extensive and include work in Warsaw, Bialystok, Olsztyn, Torun, Katowice, and Wroclaw with many luminaries of the Polish stage.
Hanna is teaching drama at Ambassador Theater's Outreach Programs and has also taught special outreach programs with Classika-Synetic Theatre at Arlington schools with Lilia Slavova and drama classes at Classika. She graduated magna cum laude from the Mount Vernon College of The George Washington University and earned her Acting Diploma in Poland. For over 15 years she served as Executive Director of the Institute for Education and Membership Chairman of the ABC XXI Child Awareness Program for Poland, which supports the emotional health and rights of children and adolescents through reading programs, awareness, education, and action.
Ms. Bondarewska has received various honors, including 2015 and 2014 DC Metro Theater Arts Best Director, Best Play Award, 2013 Helen Hayes Canadian Partnership Award, the St. Cyril and Methodius Award of excellence in promoting the Bulgarian Culture, Julia Heflin Performing Arts Award, recognition by Who's Who Among Students in American Universities, identification as a National Dean's List Scholar, and others.
Will Miřenka Čechová and Jindřiška Křivánková outdo the legend? Will they reach a state on the edge, recalling Havel's motif of alienation and Hrabal's poetics of loneliness? Aside from the two actors, major roles are played by oversized heads authored by sculptor Paulina Skavova, and by Sivan Eldar's music composed specifically for this performance.
"What happens when the words of Václav Havel's play Audience are reworked into knots and translated into dance? Spitfire Company succeed in eliciting both laughter and terror from their audience. The subject matter of Havel's play is conveyed perhaps more urgently than a conventional rendition would have accomplished."
"Dancer-actors Miřenka Čechová and Jindřiška Křivánková, along with director Petr Boháč, have made a radical contribution to the discussion about how to perform Havel's plays today."
"Beyond words, they uncover existential anxiety sublimated into the rituals of beer culture…"
"The theme of Havel's play is conveyed accurately and with perhaps a greater urgency than would be feasible by means of words and conventional acting…" (Marie Resslová, Hospodářské noviny)
Synopsis
Václav Havel's celebrated single-act play Audience explores several existential themes. However, one line of questioning predominates: the issue of individual integrity, morality and responsibility. This thread can be traced throughout Havel's work, encompassing many connections such as "my work and my self, my self and my responsibility for my work, my self as an integral part of my work." From these relationships, we derive the story of Antiwords.
DramaturgyVáclav Havel was a very restless human being, an inquisitive person who questioned prefabricated stereotypes presented in the guise of irrefutable fact. His approach can thus be characterized by criticism bordering on skepticism. His critical restlessness and realistic skepticism are reflected in the very nature of his writing, style and thought. His determined struggle for his self, as well as for his integrity and for adequate responsibility weaves through his work like the proverbial red string. This is particularly evident in his Letters to Olga, but also in his interviews, in his texts dealing with theater, and in his plays. In Audience, for instance, the protagonist Vaněk (Havel's alter ego) is being coerced by his employer to report himself to the authorities, which Vaněk categorically refuses. Self-reflection, the struggle for identity, the unsettled and unsettling mode of writing, as well as owning up to personal responsibility all become cornerstones of the dramaturgy. From the whole oeuvre of Václav Havel, certain passages and fragments will be extracted and reshaped into scenic poetry by means of collage and prollage techniques. At this point, we can glimpse the origin of the title Antiwords, which references Havel's early poetry collected in Anticodes.
Direction Methods
Two core principles are key to the direction style: a minimalist physical vocabulary of movement combined with techniques of montage and film editing, similar to the techniques of collage and prollage employed by visual art and poetry. The overall scenic presentation should be composed of fragments of Havel's entire work. Similarly to Audience, two actors are present on stage. The scenery is dominated by two tables to symbolize writing itself. Audio tapes containing recordings of Havel's works are strewn across the stage. Minimalism and its presentation through movement reference another theme of Havel's work: departure, disappearance. "Silent" dance expression comes into conflict with vocal expression provided by the audio tapes. Along with the meaning of the word departure, the end of Antiwords will be dominated by silence—the de facto disappearance of words, of written works and of verbal expression.
Scenic Arrangement
The scenography of the performance, like its direction, is minimalist at heart. The stage is diagonally split into two equal halves. The barrier in the middle is made of plexiglass, so that the viewer can see the rear section of the stage as well. This division created with transparent material symbolizes "the writing person" who notices certain features of the self in their writing even while unable to understand these features entirely, to fully identify with the inscribed alter ego. The transparent material also facilitates the implementation of the direction and stage management concepts as outlined by the montage and editing techniques.
Music
Music constitutes the source code of the whole performance. It is composed of voices reciting Havel's texts, playing on intonation as well as on a range of various qualities pertinent to language itself. Owing to all this noise of writing and speech but also silence, the stage becomes an organic space that reveals the restless spirit of Václav Havel's work and his drive to understand his self, his integrity and his interpersonal responsibility through the medium of writing.
Full Review: Hospodařské noviny
How Do You Dance Havel? Spitfire Company Translate Havel's Audience into the Language of Physical Theatre
Marie Reslová, Theatre Critic
What happens when the words of Václav Havel's play Audience are reworked into knots and translated into dance? Spitfire Company succeed in eliciting both laughter and terror from their audience. The subject matter of Havel's play is conveyed perhaps more urgently than a conventional rendition would have accomplished.
Can Havel's Audience be performed practically wordlessly, without anything of importance being lost? Those who have read the one-act play, or listened to its famous rendition featuring the author as Ferdinand Vaněk and Pavel Landovský as the brewmaster, would probably argue against such a possibility.
And they would be wrong. Dancer-actors Miřenka Čechová and Jindřiška Křivánková, along with director Petr Boháč, have made a radical contribution to the discussion about how to perform Havel's plays today in the form of their piece titled Antiwords, based on Havel's Audience. The performance had its premiere at the 2013 Zero Point Festival at the Celetná Theatre.
Spitfire Company "translate" Havel's play into the language of physical and visual theatre with elements of an improvised clown show. They don't let themselves be constrained by the words and quirks of Havel's absurd dialogue. They take an especial interest in the stagnant, dead-end quality of the situation both characters of Audience are experiencing, in which they perceive more than a few links to the character of Czech society and its icons. Beyond words, they uncover existential anxiety sublimated into the rituals of beer culture.
One could go as far as to say that the authors have found an inkling of Samuel Beckett in Václav Havel.
Miřenka Čechová and Jindřiška Křivánková have reshaped Havel's play Audience into a form no one expected.
Ceremonial Beer

From the darkness of the stage – out of an endless universe, reflected in the astral music composed by Sivan Eldar – emerge the props including a table, two chairs, a keg of beer and a bucket, just as we know from the classic Audience. Both performers slowly make their way across the stage, a mesh bag containing a beer bottle and mug in hand, a large bronze head that might have been snatched off some nationalist monument under one arm.
The red cap on Miřenka's head shines like an oversized clown's nose next to the white tops and two pairs of black men's trousers the performers are wearing. The girls slowly take hold of the bottle and place it between the legs, like a penis. They draw a bottle-opener from under one of their tops, hanging about the neck like a set of keys on a string, to pop the lid off the bottle and allow foam to be ejaculated from the head. They grab the mug and pour it full using pelvic thrusts, only to drink from it in a ritualistic fashion soon after. The audience roars with laughter at this depiction of masculinity, applauding the performers' drinking prowess as they encourage each other with pointed looks and improvised gestures.
At the table, the performers put on bronze heads. The brewmaster opens and pours one beer after another, while Vaněk shrinks away submissively, coyly wiping the table with a dishcloth. The bronze heads are pushed open like helmets each time the girls return to drinking with determination, although the beer is obviously not to their taste and literally comes out of their noses now and then… The audience keeps score of the downed drinks and cheers.
In the interplay of light and shadow, the masks' faces appear changeable while movements of the body create an eerily accurate marionette-like expression. The arsenal of innovative beer gags seems inexhaustible. The performers alternate in submissive and dominant roles, which makes for entertaining metamorphoses to watch.
Urgent Expression

In the audio component of the performance, the words of Havel's play are condensed into a looping playback of the original recording of Audience. The compelling refrains of "let's have a drink", "people are pigs" or "everything is fucked" eventually crystallize into the very essence of beer philosophy. The murmur of the universe is twice interrupted by the jubilant tenor of Karel Gott. The tune of "Mája the Little Bee" is turned into a brilliant impromptu sketch by the brewmaster, and "Back When I Was a Boy" is the song that unites the drinkers in an embrace.
The characters' beer consumption and mute dialogue seem to be surrounded by a metaphysical emptiness in Antiwords. This gives rise to a simultaneous experience of laughter and terror, producing a strange, difficult-to-articulate feeling of nausea, revulsion and sympathy. The theme of Havel's play is conveyed accurately and with perhaps a greater urgency than would be feasible by means of words and conventional acting.
The creation of Antiwords was incited by the organizers of the Mutual Inspirations Festival in Washington, DC. The annual event was established by the Czech embassy in the US in 2010, each year since then being dedicated to an inspirational figure of Czech culture – after T. G. Masaryk, Antonín Dvořák, and Miloš Forman, the person of the year 2013 is Václav Havel.
The choice of Miřenka Čechová to be one of the festival's headliners was no coincidence. The talented graduate in Alternative and Marionette Theatre at the Theatre Faculty of the Academy of Performing Arts (DAMU) as well as Nonverbal Theatre at the Music and Dance Faculty of the Academy of Performing Arts (HAMU) won a Fulbright Scholarship in 2010 and quickly made a name for herself in the independent American theatre scene. Her solo work S/He Is Nancy Joe was ranked by The Washington Post's dance critic and Pulizer Prize holder Sarah Kaufman among the top three productions of 2012 in the category of contemporary dance.
The same critic also left a thoroughly positive review for Light in the Darkness, featuring Čechová with Radim Vizváry and directed by Petr Boháč. The performance was a guest production at the Atlas Performing Center in Washington, the same venue to host Antiwords in September as part of the Havel-themed festival. This is scheduled for the same evening as another Vaněk play – Unveiling – which is being rehearsed by American actors under the supervision of Miřenka Čechová. The performer, mime artist and dancer will meanwhile appear in S/He is Nancy Joe at the Edinburgh Fringe Festival in August.
Source: http://art.ihned.cz/?p=072000_d&article%5Bid%5D=60347850
Translation © Alex Lorenzu, 2013