Category Archives: Protest

In Partnership with the Embassy of the Czech Republic and the Mutual Inspirations Festival 2013 – Vaclav Havel
Ambassador Theater presents

PROTEST

By Vaclav Havel

Translated By Vera Blackwell

Presented by Special Arrangement with SAMUEL FRENCH, INC
Directed by Gail Humphries Mardirosian Music by Jerzy Sapieyevski
Set Design by Jonathan Rushbrook
Costumes by Sigridur Johannesdottir
Sound by George Gordon
Movement by Benjamin Cunis
Lights by Zachary Dalton
Featuring
Michael Crowley, Ivan Zizek, Sissel Bakken and Hanna Bondarewska
NOVEMBER 19 – DECEMBER 15, 2013
Mead Theatre Lab at FLASHPOINT, 916 G Street, NW, Washington DC 20001
Performances: Preview: Nov. 19 8:00PM
Opening Nov. 20 8:00 PM Reception Follows
Shows: Wednesdays – Saturdays 8:00PM
Matinees: Saturdays and Sundays 2:00PM
Now shows during the Thanksgiving week: Nov. 27 – Nov. 30
In PROTEST, we meet a dissident on return home from prison and a person deeply involved in a campaign to protest against the government by getting people to sign a petition calling for a change in the political system. One character is the protesting artist who suffered for his beliefs, the other a compromising and compromised playwright.
In this unique interpretation, the two male characters of Stanek and Vanek will have counter egos — characters echoed in two females, emphasizing the universality of the characters.
The play was written in the 1978 by acclaimed human rights activist and the first president of the Czech Republic, Vaclav Havel, and is an indictment of individuals who refuse to protest corrupt political systems and collude for their own personal advantage. It is also an investigation of human behavior and an exploration of artistic prowess exerted through circumstances of personal adversity.
Havel challenges us in this play with pertinent questions: What is the connection between the arts and social responsibility/citizenry? What choices do we make as individuals when faced with circumstances of extreme volatility—what would we do if we had to make a choice between survival, compromise or revolution?
How would you act in the midst of these extreme choices?
==========================================================================

These performances are part of HAVEL'S TRILOGY, connected to the "VanÄ›k plays," as part of the Mutual Inspirations Festival 2013 – Václav Havel, celebrating the life and legacy of the former president, playwright, and human rights advocate. For more information about the festival, please visit: www.mutualinspirations.org.

==========================================================================
MEET CAST AND CREW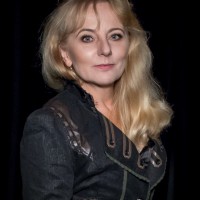 Hanna Bondarewska
Founder, CEO, and Artistic Director Hanna Bondarewska is the Artistic Director and Founder of the Ambassador Theater and was recently seen in Lady, a one woman show based on Shakespeare's Macbeth and in They Don't Pay? We Won't Pay! by Dario Fo as Antonia, Smartphones as Maria, Protest as Stankova, Death of Tintagiles as Ygraine and in Summer at Nohant as George Sand. "For Hanna Bondarewska, the path to world peace not only exists, she is walking it — one artistic endeavor at a time." – The Washington Diplomat. Hanna Bondarewska is a native of Warsaw, Poland and was trained in the Polish and American schools of drama. She founded the Ambassador Theater because she believes in the power of theater to change the world for the better through collaboration and artistry. By bringing together theater and diplomacy she hopes to give us all a new perspective as global citizens, which will lead to deeper cultural understanding. In June 2008, Hanna organized a life-changing trip to Poland for students from D.C. Public Schools as part of an educational program about Poland. The program was done in collaboration with Mrs. Hanna Reiter, wife of the former Ambassador of Poland to USA, the Embassy of Poland, Embassy Adoption Program, D.C. Public Schools and WPAS. She worked with over 60 students, teaching them about Poland, its history, culture, and traditions through theater designed to help them better retain learnt material, improve their reading comprehension, posture, and speaking skills, increase their imagination, and energize their drive for life. The program developed into a performance, "Poland the Beautiful, an Imaginary ." Students performed the piece at their schools and at the Embassy of Poland, and then took it on the road for the First Lady of Poland, Mrs. Maria Kaczynska, at the Presidential Palace in Warsaw and in many other places around Poland last June. Hanna's acting credits are extensive and include the role of Antonia in They Don't Pay? We Won't Pay! by Dario Fo, George Sand in Summer at Nohant, Young Helena Modjeska in Farewell to Arden, Helena—the Emigrant Queen; Mother in Sunflowers, Wife in Square Minus One; A Genie Named Khatab; Snow Queen; Anouilh's Antigone; Gogol's The Marriage; and Goldoni's Mirandolina and many others. Ms. Bondarewska has recently directed Lady, The Trap, Happily Ever After, The Visitor, The Third Breast, The Madman and the Nun, Death of Tintagiles, Miracle of Saint Anthony, Summer at Nohant, Farewell to Arden, Forefathers, and Out at Sea. Her one-woman show, Lenya Cum Weill, won recognition at the Kennedy Center Performing Arts Festival. Hanna performed at the Washington Shakespeare Theatre, Spectrum Theatre, Classika-Synetic Theatre, The New York Polish Theater, Hippodrome State Theatre, and Acrosstown Theater in Florida, where she also directed The Tao of Pooh, based on the book by B. Hoffman, and S. Mrożek's Tango. Her Polish theater credits are extensive and include work in Warsaw, Bialystok, Olsztyn, Torun, Katowice, and Wroclaw with many luminaries of the Polish stage. Hanna received her Master of Fine Arts in Classical Acting at the Academy for Classical Acting at George Washington University and Shakespeare Theatre. She graduated magna cum laude from the Mount Vernon College of The George Washington University and also earned her Acting Diploma in Poland. For over 15 years she served as Executive Director of the Institute for Education and Membership Chairman of the ABC XXI Child Awareness Program for Poland, which supports the emotional health and rights of children and adolescents through reading programs, awareness, education, and action. Recently, her one-woman show of Lady was invited to perform at several international theater festivals around the world. Ms. Bondarewska has received various honors, including 2015 and 2014 DC Metro Theater  Arts Best Director, Best Play Award, 2013 Helen Hayes Canadian Partnership Award, the St. Cyril and Methodius Award of excellence in promoting the Bulgarian Culture, Julia Heflin Performing Arts Award, recognition by Who's Who Among Students in American Universities, identification as a National Dean's List Scholar, and others.


Eliza Anna Falk: Vaclav Havel (1936 – 2011) – The power of words
"At the beginning of everything is the word (…). It is a miracle to which we owe the fact that we are human (…). The same word can, at one moment, radiate great hope; at another, it can emit lethal rays (…) true at one moment and false the next (…) worst of all, at times they can be one or the other. They can even be both at once" (Havel 1).
The family bookworm
Already as a child Vaclav preferred written words to outdoor pastimes. His mother Bozena, daughter of a journalist, diplomat and art lover and herself academically gifted and multilingual, imparted her high educational standards onto both of her sons. However it was Vaclav, the older sibling, who took intellectual interests to the extreme. The boy quickly became the family bookworm spending most of his free time indoors reading philosophy, poetry and literature or looking through foreign language magazines. Vaclav was very fond of poetry as a child; reading it, reciting and eventually writing his own at the age of ten (Keane: 85). "I've been writing since I was about six, or rather since I first learned the alphabet" he once wrote to his wife Olga. He stressed that writing was not the only outlet for his burning desire to create and say something about the world (Havel 2:131), which may explain his interest in other media, such as theatre.
As was expected of a well-to-do,' bourgeoisie' family, eleven years old Vaclav was placed in a private boarding school near Prague, where fellow students included future prominent individuals including filmmakers, politicians and entrepreneurs. After only two and a half years the Communist coup of 1948 put an end to private education, and Havel, now officially a member of a privileged 'bourgeoisie', was forced to commence state schooling. Discouraged and resentful, he did not take communist curriculum seriously and after attending several institutions passed his matriculation exams in night school, while working as an apprentice laboratory assistant. His tertiary education was equally inadequate, as he had no choice but to study urban transport after being denied entry into Charles University to pursue a humanities program.
While the state schools served as means to remain outside the communist radar, it was the after- school activities, which held the true importance in the intellectual development of the teenager. Conversations about philosophy and politics with likeminded high school peers paired with private philosophy classes with family friend J.L. Fischer kept developing his interests and sharpened his mind. Discussions continued at Havel's home and soon a group of art-loving, free spirited and talented 'bourgeoisie' youth started regular meetings, with Vaclav naturally emerging as a convener. Apart from discussions, photography and poetry competitions, the group self-named 'Thirty-sixters' (as most were born the same year), made visits to prominent cultural figures of 1950s Prague's art and literary scene (Keane: 104-108). Throughout this time Havel continued his intellectual pursuits, shaping his future as a poet, playwright, essayist, speech writer, philosopher and a politician.
Words to look at – Anticodes
In 1956, aged 20 and a member of young Czech and Slovak Writers' Group, Havel wrote poetry and critical essays and wanted to
study dramaturgy. Formal studies did not eventuate; instead he landed a job in a theatre and soon started co-writing plays whilst continuing his poetic endeavors. His first book of experimental, typographic poems Anticodes was written in 1964 and continued in 1964-69; 1970-1989 and after 1989. Anticodes contained visual, thought-provoking poems which captured Havel's humor and imagination, restlessness in search for expression and importance of a dialog with his audience. Although they "were originally written to amuse himself and friends" according to Carol Rocamora (author of Acts of Courage: Vaclav Havel's Life in the Theatre) and were called by Joseph Hirsal, a Czech experimental poet, "engaged articulations of absurdity" (Danaher: 4-5), there was much more to them than just language games and visual effects.
The early poetry not only heralded Havel's fixation with words and his love of the visual and the absurd, but also his rebellion against dehumanizing and destructive effects of totalitarianism and its absurd messages. Drawing on modernist art forms and techniques, such as pop-art and collage, became Havel's trademark and allowed him to play with absurd reality of his times by deconstructing and re-arranging it in order to reach his audiences with important messages. Both the readers and spectators were being encouraged by Havel to interpret the often puzzling messages and language games in his poems and plays in the context of their own experiences. The author's goal was to stimulate and provoke them to self-reflect and to realize that they had the power to deconstruct and reconstruct their own reality despite the totalitarian regime's agenda to prevent them from living independent and meaningful lives (Keane: 329).
A Czech theatre director Brano Mazuch, one of the creators of a multimedia production of Anticodes, honored Havel's mission to engage audiences when he staged the event at the Czech National Theatre in Prague on 21 March 2013. He and his collaborators approached Havel's experimental poetry and its intelligent humor as a vehicle providing spectators with an opportunity to reflect on the society and themselves via allusions and triggers put in place to stimulate self-examination (Mazuch).
Mirenka Cechova and Sivan Eldar from the Spitfire Company also reached for the visual power of Anticodes while developing the concept for their performance Antiwords, based primarily on Havel's play Audience and its film adaptation. The creators of Antiwords, which premiered at the 2013 Zero Point Festival at the Celetna Theatre, abandoned the play's dialog and conventional acting and transformed the play into a physical spectacle with the help of music, dance, silence and puppetry-like props. The Spitfire Company's radical and challenging interpretation of Audience received critical acclaim with Marie Resslova suggesting in her review that the authors of the spectacle "found an inkling of Samuel Beckett in Vaclav Havel". "How do you dance Havel?" she asks and answers that the creators of Antiwords rework the words of Audience "into knots and translate them into dance" and "beyond words, they uncover existential anxiety sublimated into the rituals of beer culture…" and convey the play "accurately and with perhaps greater urgency than would be feasible by means of words" (Resslova).
Havel's Audience and its audience
Audience, as well as, The Garden Party (1963), Memorandum (1965), The Vanek Trilogy (1975-78)) and Largo Desolato (1984,) are Havel's political plays written in the convention of the absurdist theatre of "appeals" (Keane: 157) and are his best known. Through satire and irony and often taking the boundaries of theatrical forms and language to the extreme, the plays reveal the evil of communism and alert the audiences to the damage being done to them by the regime. Havel's ultimate goal as a playwright was to appeal to the spectators (initially listeners of illegal recordings as the plays had been banned) and to their sense of truth and responsibility, by encouraging them to overcome fear and to resist de-humanization. Havel truly believed that "those that say that individuals are not capable of changing anything are only looking for excuses" (Havel 4) and that "the salvation of this human world lies nowhere else than in the human heart, in the human power to reflect, in human meekness and human responsibility" (Havel 5).
Audience, written in 1975 belongs to The Vanek Trilogy, three partly autobiographical one-act plays (also including A Private View or Unveiling and Protest) created after 1968 Soviet clampdown in Czechoslovakia. The plays' binding element is a character of Havel's alter-ego Ferdinand Vanek, a dissident writer and intellectual, and his struggles with pressures of life in the oppressive state. In the Audience Vanek, just like Havel in real life, is forced to work at a brewery, rolling barrels. The absurd starts when his boss, the brew master and avid beer drinker who earns brownie points with authorities by reporting on his dissident subordinates, offers him a better job in return for inventing and admitting to political activities. Vanek refuses to participate in "something I have always found repugnant" (Havel 6: 208) and asserts his identity and values despite all odds.
The play is one of many satirical works in which Havel examines the psychology of totalitarianism and reveals damages it causes to human relationships by exposing people to hypocrisies and power games based on fear and blackmail. Its time-transcending message about the importance of remaining responsible, honest and true to one-self in the face of oppression, was at its strongest and most needed in the communist Czechoslovakia when citizens were paralyzed by fear and where resistance struggled to spread. Despite the fear, hearts and minds of Czechs and Slovaks were hungry for inspiration and support. Havel became the nation's voice of freedom and free expression. His plays were recorded privately and unofficially circulated across the country. Such was the appeal of Audience, recorded in Prague in 1978 and published in Sweden, that many Czechs knew parts of it by heart and recited it in private as a gesture of defiance and contempt for the oppressors.

The value of words – Letters to Olga
The strongest and most desperate need for words, as well as the harshest test of Havel's identity and values, came with his imprisonment in June 1979, and lasted until his release in January 1984. The strictness of prison correspondence's rules imposed on Havel was crushing: "No more than one four-page letter a week. No copies of the letters to be retained. No letters to anybody but immediate family. No mention of prison conditions, or politics. No underlining. No scratching our or correction. No illegible handwriting. No quotation marks. No foreign words or expressions. No humour" (Keane: 293). Forced into isolation and quasi silence Havel clanged to the letters with desperation as they were his only means of expression and contact with the outside world. He later wrote that he had become "more and more wrapped up in them" and that he " depended on them to the point where almost nothing else mattered" not only because they were his life line and but also because letter writing served as means to review his fundamental attitudes and the way he looked at himself (Havel 2: 8).
Although addressed only to his wife Olga, an art-loving actress from a working class background, whom he met when seventeen and married 11 years later, the 144 letters Havel wrote during his five year incarceration were also meant to reach his family, friends and others close to him, of both sexes. Despite hardship, separation and Havel's closeness to other women, Olga remained his wife and closest friend, anchor and point of stability until her death in 1996. She was the first to open the letters and acted as a link between Havel and his circle. After his release from prison Havel said: "It's true that you won't find many heartfelt, personal passages specifically addressed to my wife in my prison letters. Even so, I think that Olga is their main hero, though admittedly hidden. That is why I put her name in the title of the book" (…) "We both feel that we are probably inseparable" (Havel 2: 10).
The letters allowed Havel to feel human and however restricted in frequency and content, were priceless and life sustaining. They also forced him to use his creative imagination and mastery with words. With so many limitations imposed by prison rules he had no choice but to repeat the same themes and use only his wife as an addressee. At the same time, however, he had to think of brilliant language tricks to allow him to hide messages amongst apparently routine sentences for Olga and others to decode: "The letters, in fact, are endless spirals in which I've tried to enclose something (…) which is why the letters are full of (…) the complicated ways of saying things (Havel 2: 9).

Words and politics
Correctly described as "the master juggler of words" (Keane: 148), Havel was a restless and versatile writer testing the boundaries of language, form and meaning, and employing a range of literary genres to examine vital issues and carry his messages across. His awareness of the power of words combined with talent and passion for writing and the extraordinary way with words were priceless in his roles as a dissident playwright and a political prisoner. When deprived of his right to write the truth and not wanting his writings to be confiscated, he was forced to reach for the world of language games, coded messages and clever 'double-meanings' both in his plays and letters from prison. Importance of reaching his intended audience required him to stretch the boundaries of language, to use puzzles and repetitions to emphasize messages and accentuate absurd situations.
When the time came to use words as weapons in an open battle with the communist government, Havel did just that. In 1976 he co-created and co-wrote the ground-breaking Charter 77, which openly criticized the regime for failing to implement basic human rights, and as a result exposed its creators and signatories to harassment and punishment. Despite the Charter being banned and its creators labeled traitors and persecuted, the impact of the document could not be reversed and its growing influence halted. "I really do inhabit a system in which words are capable of shaking the entire structure of government, where words can prove mightier than ten military divisions" said Havel in October 1989 while accepting a peace prize.
The cost of Havel's association with the Charter 77 was five years of his freedom. Little did he know spending time in prison, that one day he will be asked to assume yet another role, that of a politician and a head of state, which will avail him of new opportunities to exercise the power of words, this time without any limitations and restrictions. His political and philosophical essays, acceptance and other speeches created during his political career are numerous and their profound messages are quoted frequently. The common threads binding them are Havel's concern for human identity in the modern world and his belief in the importance of truth, responsibility and hope. "Truth and love will overcome lies and hatred" is one of his most famous quotes (Havel 7).
Havel's legacy as a freedom fighter, philosopher and a politician lives on. As for his plays, Milan Kundera's words have become prophetic: "If there are any theatres left that base work entirely on the writer's text, theatres that value the development of poetry in drama, then Havel's plays will never be out of the repertoire" (Havel 6).
Sources
Danaher, David S. The restlessness of transcendence: Vaclav Havel's genres. Web. 19 August 2013 <cokdybysme.net/pdfs/genrepaper.pdf>
Havel, Vaclav. (1). A Word about Words. Web. 19 August 2013
<www.nybooks.com/articles/archives/1990/jan/18/word-on-words/?pagination=false>
Havel, Vaclav. (2.) Letters to Olga. June 1979 – September 1982. Alfred. A. Knopf, 1988. Print
Havel, Vaclav. (3). Antikody. Web. 19 August 2013
<Beldar.cz/myf/txt/Havel_-_antikody.html>
Havel, Vaclav. (4). Vaclav Havel Quotes. Web. 19 August 2013
<izquotes.com/quote/235446/author/Vaclav-havel>
Havel, Vaclav. (5). Vaclav Havel Quotes. Web. 19 August 2013.
<www.izquotes.com/quote/81012/author/Vaclav-Havel>
Havel, Vaclav. (6). The Garden Party and Other Plays. Grove Press, New York, 1993. Print
Havel, Vaclav. (7). Quotes. Web. 20 August 2013.
<www.goodreads.com/author/quotes/71441.V_clav_Have>l
<en.wikiquote.org/wiki/Vaclav_Havel>
Keane, John. Vaclav Havel – A Political Tragedy in Six Acts. Bloomsbury Publishing, London, 1999.
Print
Mazuch, Bran. Interview with Bran Mazuch on the Production of Anticodes. Web. 19 August 2013
<tanecniaktuality.cz/en/interview-with-bran-mazuch-on-the-production-anticodes>