Hopa Tropa: Kukerica! 
Conceived and Directed by Lilia Slavova
Choreography by Ivan Dimitrov
2nd Part Directed and choreographed by Desi Jordanoff
Set Design by Antonio Petrov
Puppet Design: Julia Tasheva
Music Arrangement Petko Kolev
Cast
Amie Cazel
Daria Kondova
Gwendolyn Torrence
Daniel Rovin
Konstantin Hadjipanzov
FEATURING
ORFEA, Vocal Ensemble: Eastern European Harmonies
SVITANYA, Vocal Ensemble: Music of Eastern Europe from Philadelphia PA
ZHARAVA, The Bulgarian folk-dance ensemble 
ST. KLIMENT OKHRIDSKI BULGARIAN SCHOOL
Memorial Theater in Old Town Alexandria, VA
at the George Washington Masonic Memorial
101 Callahan Drive, Alexandria, VA 22301
April 1, 2012 at 11:30 a.m. and 2 p.m.
Special Workshops at 12:30 and 3 p.m. Play with the Kukerica and have fun with the actors, puppets and more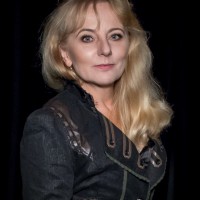 Hanna Bondarewska
Founder, CEO, and Artistic Director Hanna Bondarewska is the Artistic Director and Founder of the Ambassador Theater and was recently seen in Lady, a one woman show based on Shakespeare's Macbeth and in They Don't Pay? We Won't Pay! by Dario Fo as Antonia, Smartphones as Maria, Protest as Stankova, Death of Tintagiles as Ygraine and in Summer at Nohant as George Sand. "For Hanna Bondarewska, the path to world peace not only exists, she is walking it — one artistic endeavor at a time." – The Washington Diplomat. Hanna Bondarewska is a native of Warsaw, Poland and was trained in the Polish and American schools of drama. She founded the Ambassador Theater because she believes in the power of theater to change the world for the better through collaboration and artistry. By bringing together theater and diplomacy she hopes to give us all a new perspective as global citizens, which will lead to deeper cultural understanding. In June 2008, Hanna organized a life-changing trip to Poland for students from D.C. Public Schools as part of an educational program about Poland. The program was done in collaboration with Mrs. Hanna Reiter, wife of the former Ambassador of Poland to USA, the Embassy of Poland, Embassy Adoption Program, D.C. Public Schools and WPAS. She worked with over 60 students, teaching them about Poland, its history, culture, and traditions through theater designed to help them better retain learnt material, improve their reading comprehension, posture, and speaking skills, increase their imagination, and energize their drive for life. The program developed into a performance, "Poland the Beautiful, an Imaginary ." Students performed the piece at their schools and at the Embassy of Poland, and then took it on the road for the First Lady of Poland, Mrs. Maria Kaczynska, at the Presidential Palace in Warsaw and in many other places around Poland last June. Hanna's acting credits are extensive and include the role of Antonia in They Don't Pay? We Won't Pay! by Dario Fo, George Sand in Summer at Nohant, Young Helena Modjeska in Farewell to Arden, Helena—the Emigrant Queen; Mother in Sunflowers, Wife in Square Minus One; A Genie Named Khatab; Snow Queen; Anouilh's Antigone; Gogol's The Marriage; and Goldoni's Mirandolina and many others. Ms. Bondarewska has recently directed Lady, The Trap, Happily Ever After, The Visitor, The Third Breast, The Madman and the Nun, Death of Tintagiles, Miracle of Saint Anthony, Summer at Nohant, Farewell to Arden, Forefathers, and Out at Sea. Her one-woman show, Lenya Cum Weill, won recognition at the Kennedy Center Performing Arts Festival. Hanna performed at the Washington Shakespeare Theatre, Spectrum Theatre, Classika-Synetic Theatre, The New York Polish Theater, Hippodrome State Theatre, and Acrosstown Theater in Florida, where she also directed The Tao of Pooh, based on the book by B. Hoffman, and S. Mrożek's Tango. Her Polish theater credits are extensive and include work in Warsaw, Bialystok, Olsztyn, Torun, Katowice, and Wroclaw with many luminaries of the Polish stage. Hanna received her Master of Fine Arts in Classical Acting at the Academy for Classical Acting at George Washington University and Shakespeare Theatre. She graduated magna cum laude from the Mount Vernon College of The George Washington University and also earned her Acting Diploma in Poland. For over 15 years she served as Executive Director of the Institute for Education and Membership Chairman of the ABC XXI Child Awareness Program for Poland, which supports the emotional health and rights of children and adolescents through reading programs, awareness, education, and action. Recently, her one-woman show of Lady was invited to perform at several international theater festivals around the world. Ms. Bondarewska has received various honors, including 2015 and 2014 DC Metro Theater  Arts Best Director, Best Play Award, 2013 Helen Hayes Canadian Partnership Award, the St. Cyril and Methodius Award of excellence in promoting the Bulgarian Culture, Julia Heflin Performing Arts Award, recognition by Who's Who Among Students in American Universities, identification as a National Dean's List Scholar, and others.